Our new service is the sweetest form of self-care, and makes a great gift for birthdays and holidays. That's right, you can now get (or gift) the flowers you love regularly and at a great price - monthly, bi-weekly or even weekly!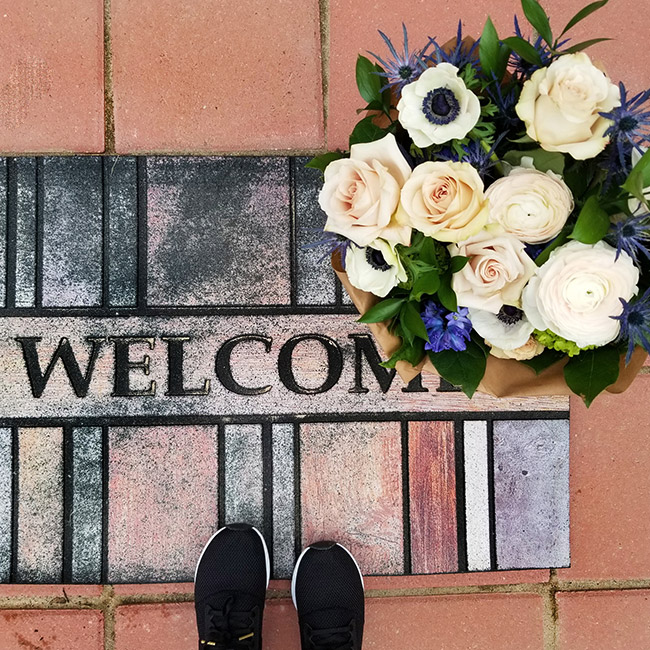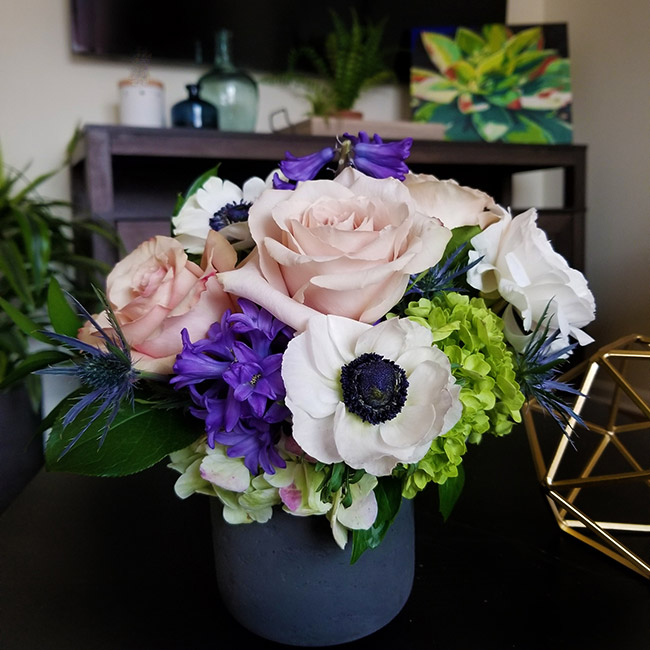 Through our subscription service, you gain exclusive access to premium varieties curated by our expert team. Flowers have always had the power to lift spirits, so let them, by effortlessly bringing cheer into your life (or loved ones). So, how does it work?
1. Choose Your Style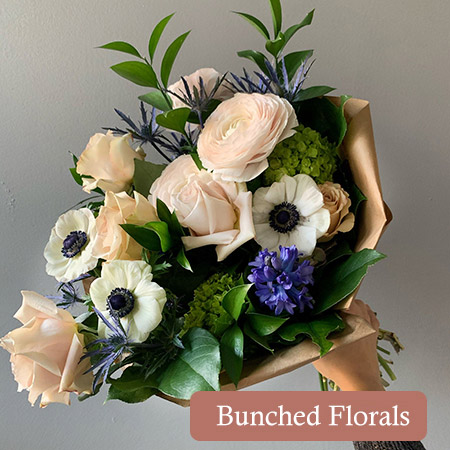 Our "Bunched Floral" subscription brings the vibrancy of the season with a beautiful display of hand-tied blooms wrapped in craft paper, ready to drop in your vase - leaving no mess at home. If you don't have a vase, just add one to your plan! $45 and $60 options.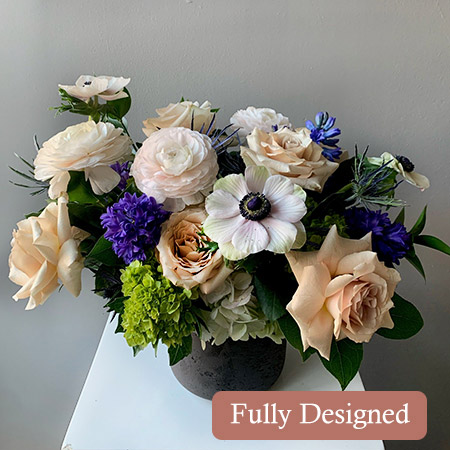 Our "Fully Designed" subscription offers FOUR size options - all expertly designed in an opaque vase featuring the season's best:
The Petite, a dainty coffee table sized arrangement for $50.
The Classic, a charming table top floral for $75
The Luxe (pictured above), overflowing lush seasonal premium florals for $100.
Customized, don't be afraid to customize an arrangement to perfectly fit your space & style!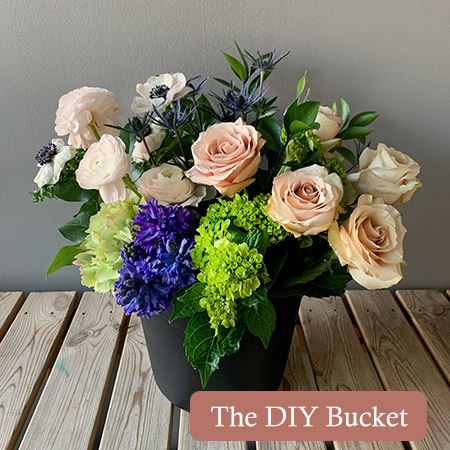 Our "DIY Bucket" subscription is just how it sounds! A peak-season mix of loose stems in a bucket, leaving all of the floral designing & creativity to you in the comfort of your home! Use your own vase or add one to your purchase! Begins at $50.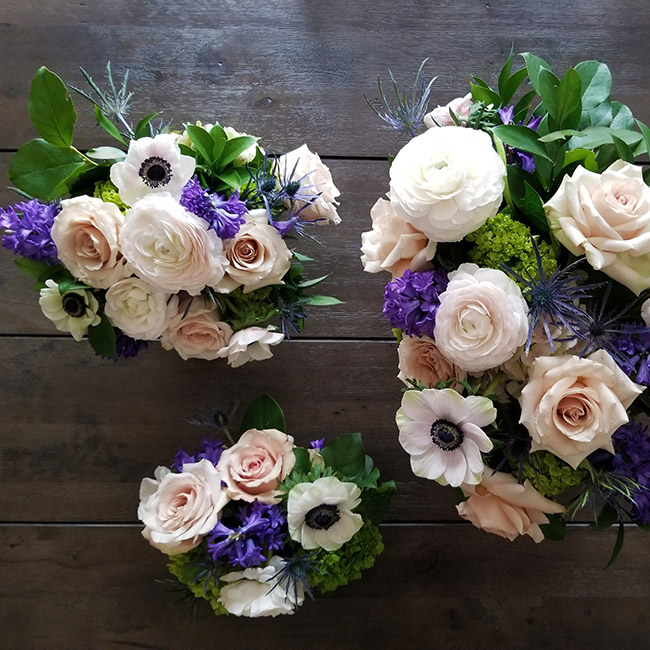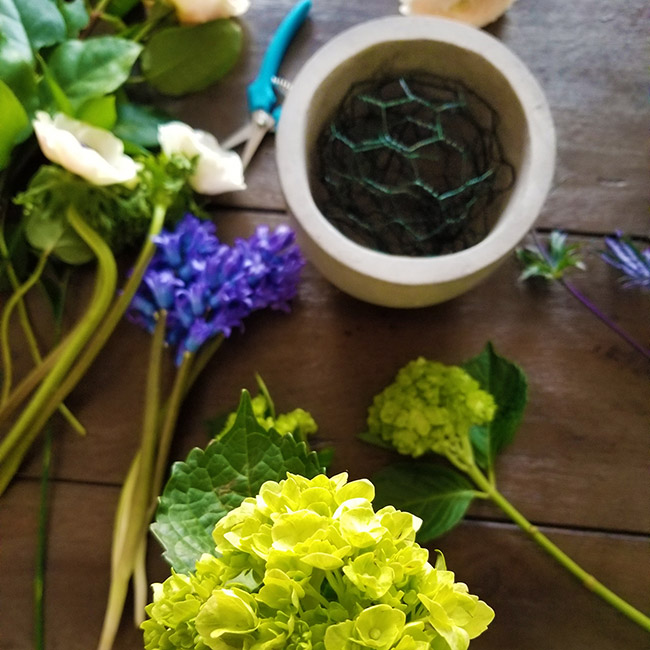 We offer 3, 4, 6 and 12 month subscriptions all available with doorstep delivery or curbside pick-up!
Our subscription delivery fee is discounted to $10, regardless of the plan or frequency.
Our monthly plan has your blooms delivered the first Friday of the new month.
Our bi-weekly plan is every other Friday of the month and lastly,
our weekly plan gets you the flowers you love EVERY Friday -
what a great way to start the weekend!
Get More, Save More
12 Month Subscriptions20% off each arrangement.
6 Month Subscriptions15% off each arrangement.
3/4 Month Subscriptions10% off each arrangement.
What Type of Flowers and Colors Will I Recieve?

The subscription plans are designed with finer flowers. Our designers carefully choose peak-season florals for your subscription. The colors and varieties are top of the line, and they will coordinate with what's in season for color and variety. So in the Fall, you will see bright autumn tones. In the Spring, you'll catch some of our all time favorites, peonies! Please let us know ahead if there are any floral allergies in the home, or if there is any sensitivity to smell. To fully customize your subscription and specifically choose flowers, the "Fully Designed Customized" plan is the best choice! Our other subscription plans are designer's choice week to week, month to month.
Can I Get My Subscription Delivered?

Yes, we offer doorstep delivery and curbside pick up on all subscription plans. Delivery is a discounted fee of $10, regardless of the plan or frequency. Curbside pick-up is free at our Owings Mills location. We are open from 8:30am until 5pm on Fridays. Please note: you must be in our local delivery zone.
What if I'm Going Out of Town?

You may postpone your subscription at any time. If you know you are going out of town, please call the week before the delivery. We will be happy to adjust the date.
How Will I Be Charged for My Plan?

You can pay in full for your subscription plan OR your credit card is kept on file, and you will be automatically charged the week before your delivery or pick up is scheduled.
Can I Cancel?

You can, but you won't want to!